Product Details

Size Chart


FAQs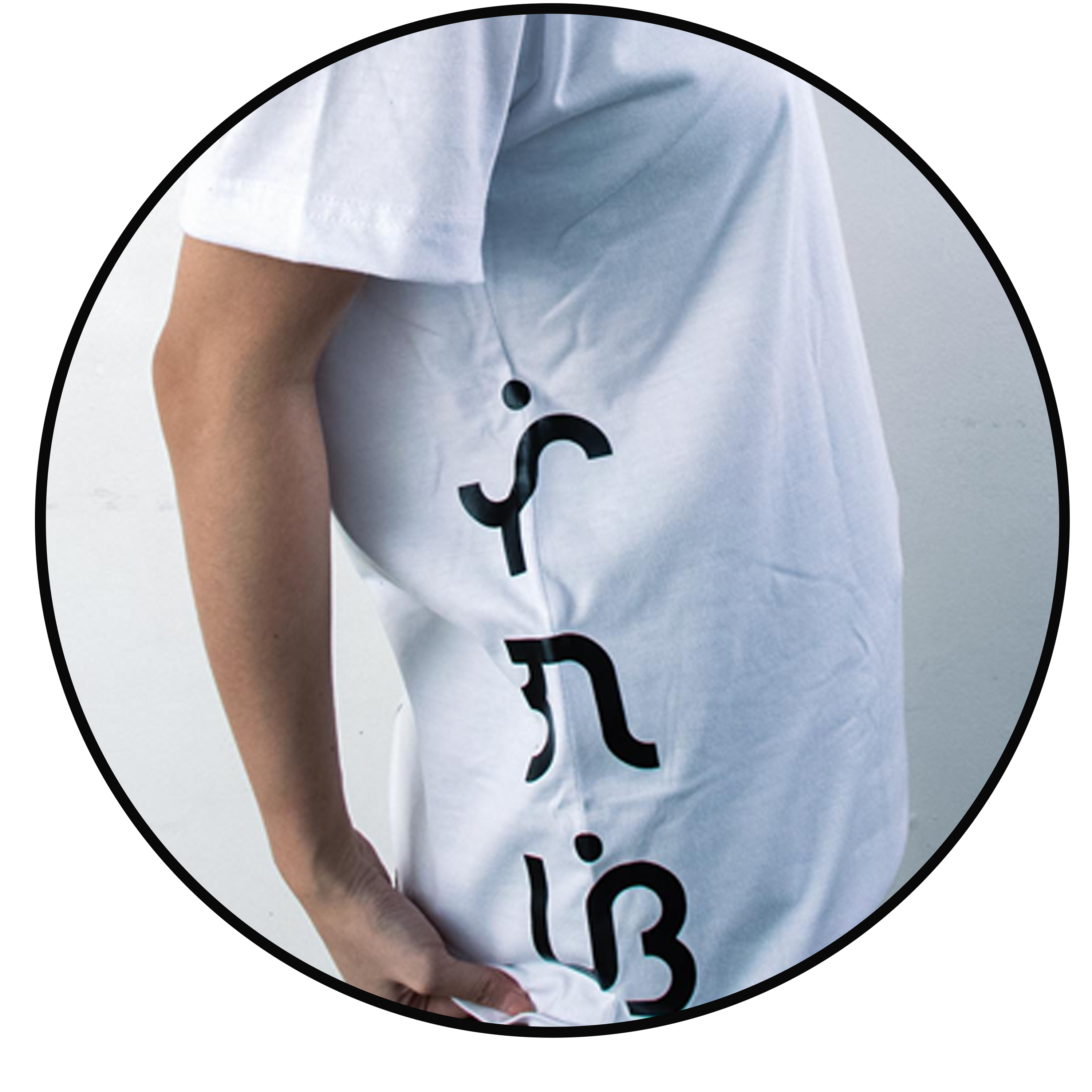 A pre-spanish Philippine writing system that was used during the early part of the Spanish colonization, until it was left behind. Our generations aim to honor and relive our Filipino LEGAZY®.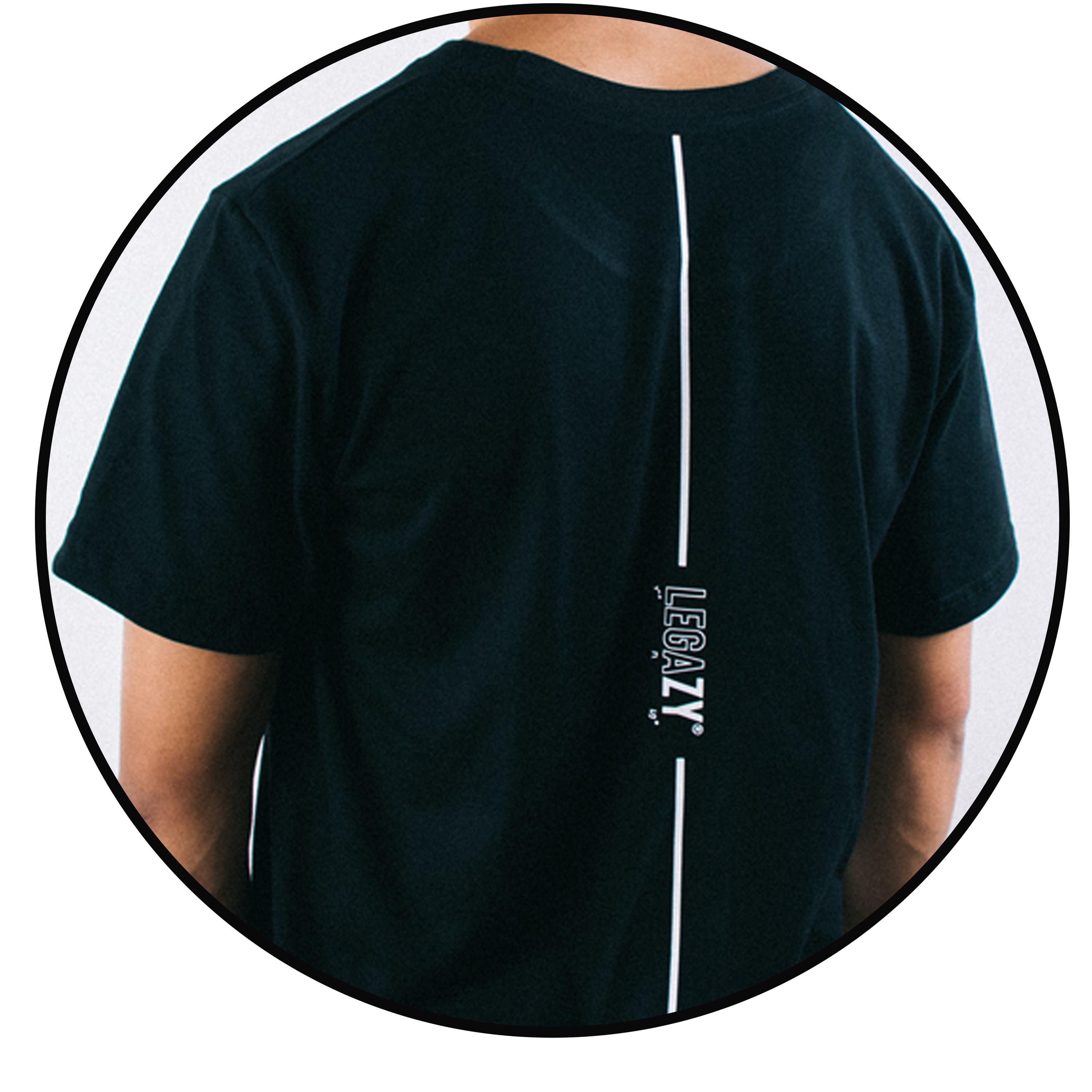 The element of LINES in our designs represents the infinite succession of our Filipino culture. The legacy of the first generations will be relived today with LEGAZY®.
---
Comfort and style should not be compromised when picking the best type of material. Made from the absorbent and breathable CVC fabric material with 40% polyester and 60% cotton, the fabric was hand-picked enough to make sure that comfort and quality are at its ultimate. 
---
Crafted by respected Filipinos equipped with years of experience in their own legacy. Through the meticulous hands of our local tailors, each piece is carefully crafted into a masterpiece. Several trial and errors have been made to come up with the best overall product suited for each Filipino and the rest of the world. 
---
A louder engagement of the brand must mark within every line it produce. The brand's tag established the firm proof that you're carrying the badge of your legit identity to live the movement that LEGAZY® created. 
---
In striving for a product that will make an impact from quality to the message the brand wants to convey, the tiny label fated to give a clear value of what the LEGAZY® is all about.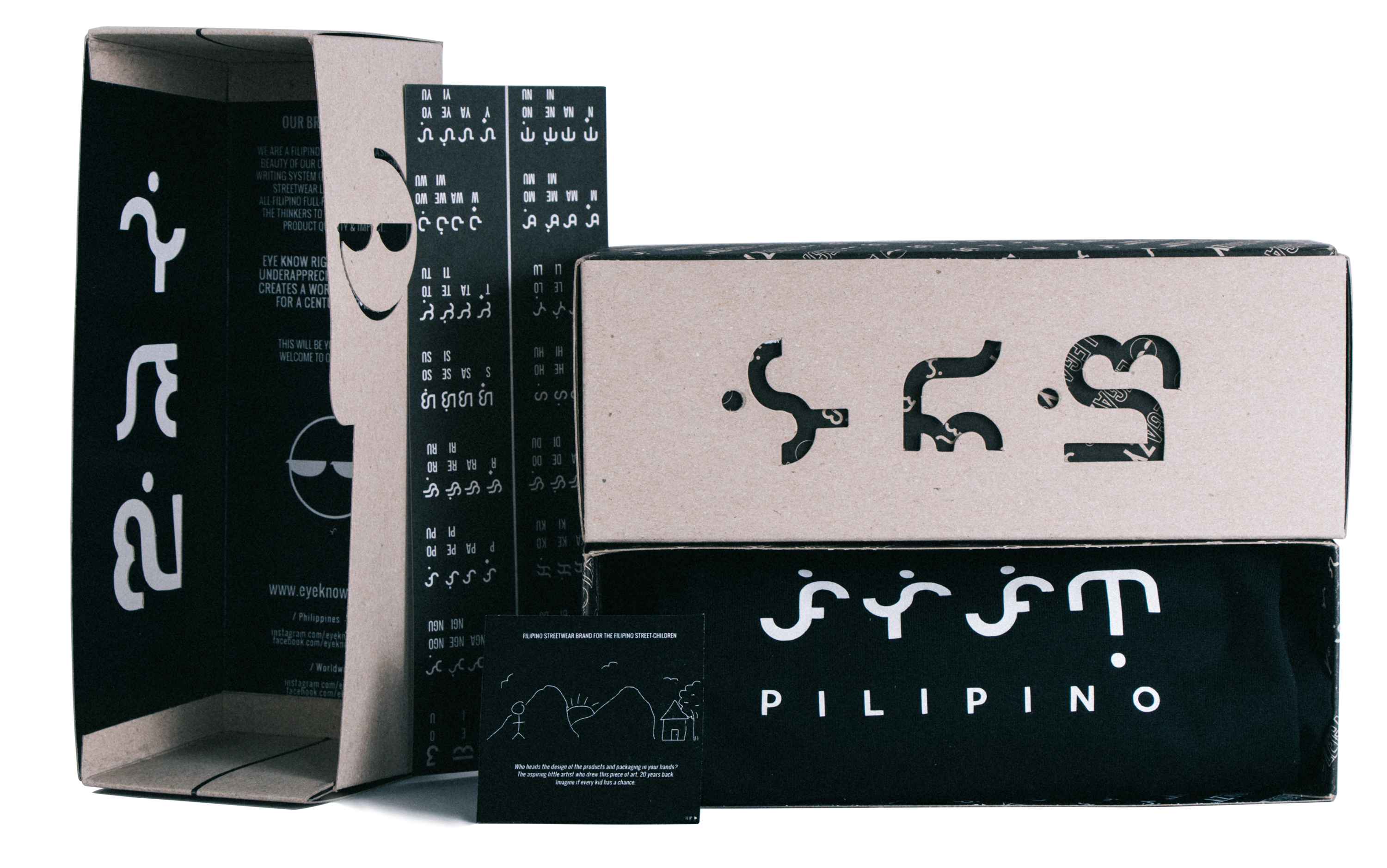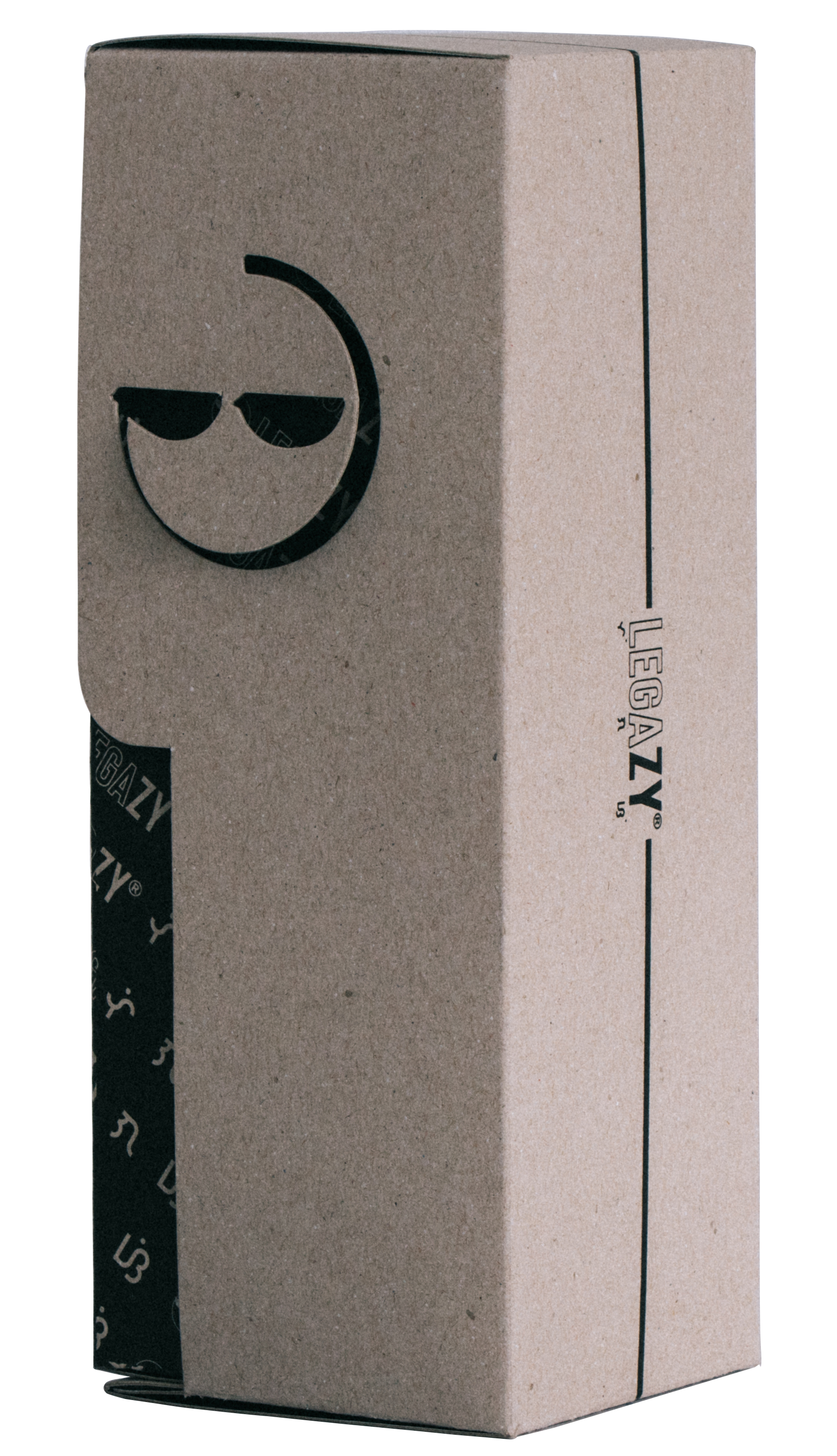 ---
LEGAZY®'s exemplary case was marvelously crafted as two separate elements symbolizing the merging of two generations. Each side of the elements engraves the movement's SIMBOLO and the LEGAZY® in Baybayin form with the compacted message of LEGAZY®'s vision and advocacy within.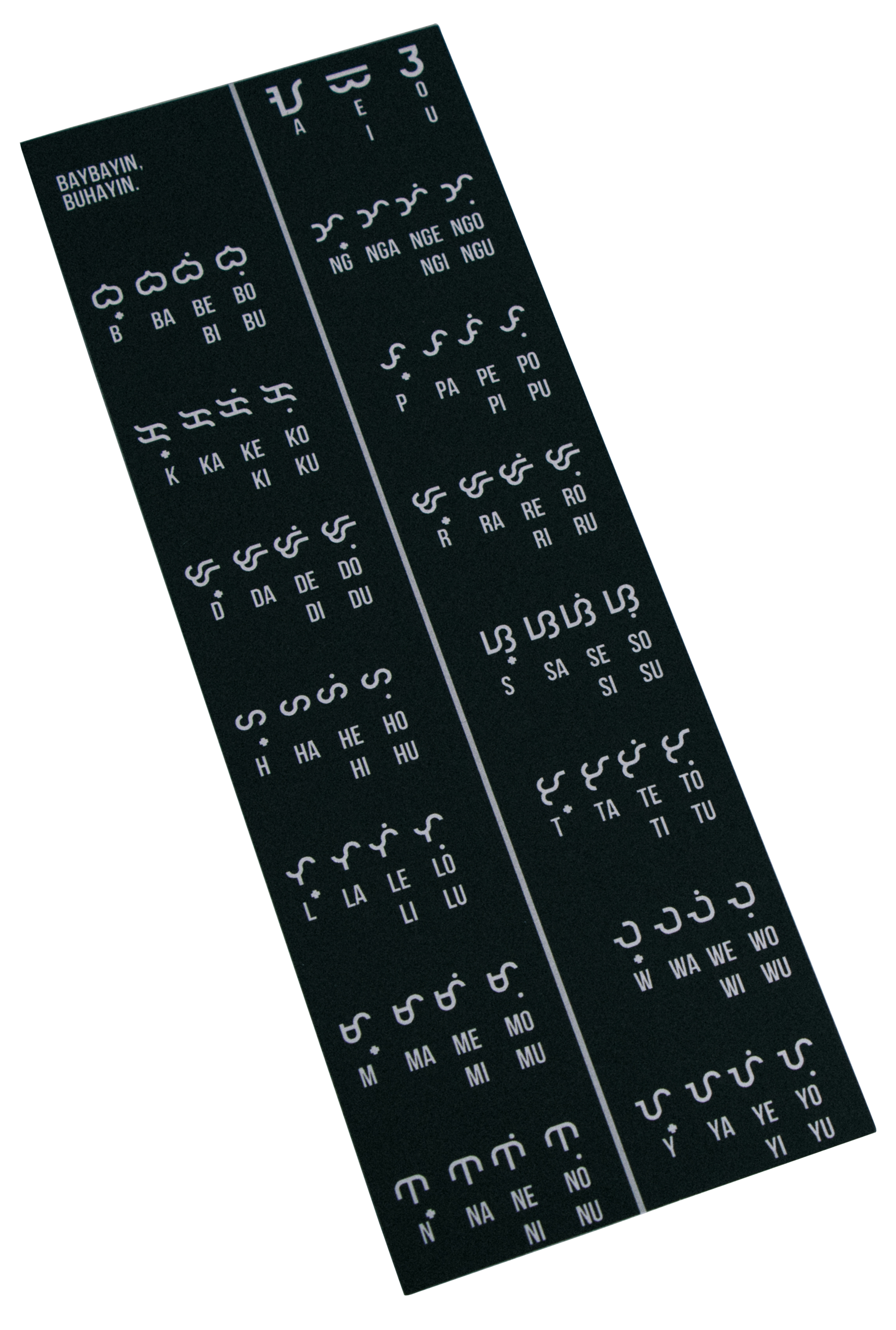 An exclusive card giving you the privilege to experience first-hand the artistry passed on by our ancestors through our BAYBAYIN script card. Attached in this card is a code meant for you to break as your discount waits for you to be unlocked.
---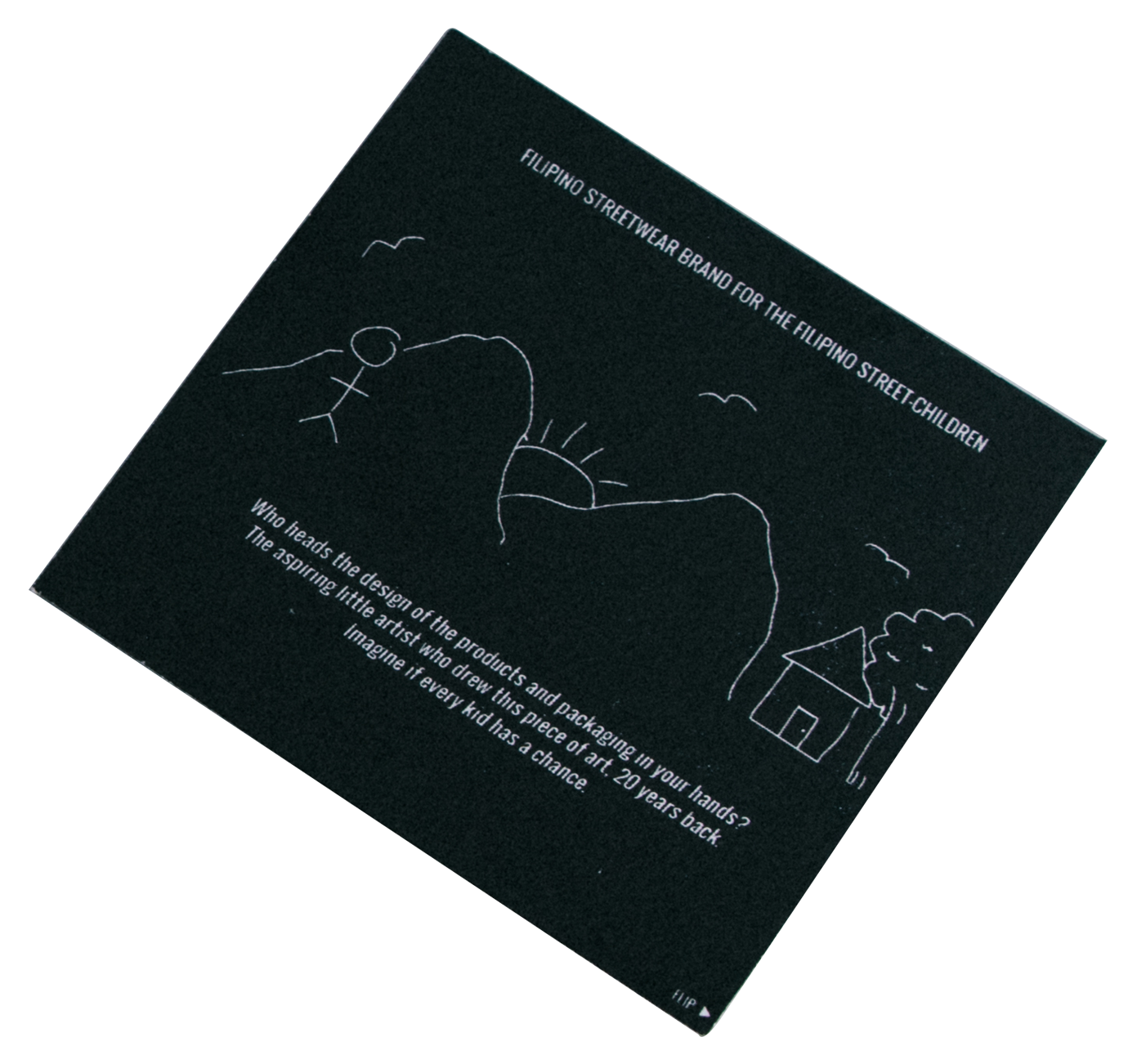 ---
Read your big impact through a small card. Scan the mystery from this element and go to where the LEGAZY® wants you to explore for other community VIP perks.
---
1.DO NOT DRY CLEAN
2. WASH AND DRY GARMENTS INSIDE OUT
3. CHOOSE COLD OR WARM WATER TEMPERATURE SETTINGS FOR THE WASH
4. DRY ON A LOW/TUMBLE SETTING OR HANG DRY
5. DO NOT IRON DIRECTLY ON THE DESIGN
6. USE MILD SOAP/DETERGENT FOR WASHING PURPOSES


PRODUCT DETAILS
Semi Fit
Solid
Graphic Print
Single Jersey
Circular Knit
60% Cotton 40% Polyester
MODEL'S BODY MEASUREMENT
Height: 6'1"
Chest: 39"
Waist: 29.5"
Hips: 36.5"

Model is wearing Size: Extra Large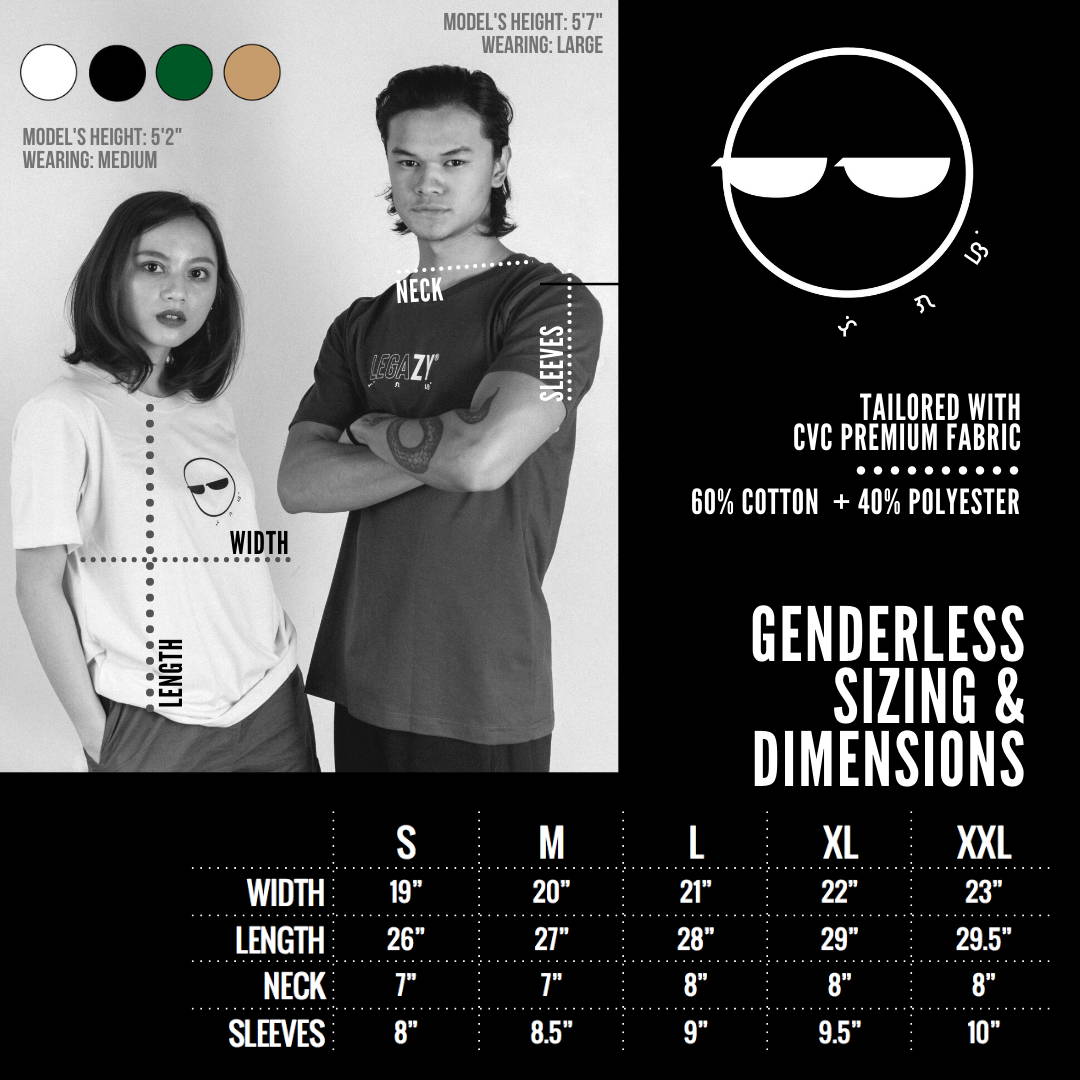 1.1 DELIVERY DAYS
                1.1.1 Metro Manila: 2-3 Working days + 1 day processing
                1.1.2 Provincial 3-7 Working days + 1 day processing
                1.1.3 FEES
                              The following fees may apply depending on the amount of total orders and mode of payment:
                              FREE SHIPPING on orders above 1,000PHP while we can still be generous 😉
                                                      - + 100 PHP shipping fee for orders below 1,000PHP
                                                      - +50 php for Cash on Delivery charge by the courier

1. Choose your product, design, color, and size

2. Click Add to cart
3. Fill up our Order Form on the following page
House/Unit/Blk/Lot Number:
Building:(if applicable)
Street:
Barangay:
District:
City:
Province:
Zipcode:
Contact Details: *** Kindly provide active contact details so our COMMUNITY SUPPORT TEAM can update you about the status of your order
Mobile Number:
Email Address:
4. Choose payment method:
                 4.1 Cash on Delivery
                4.2 Credit/Debit Cards through Paypal
                4.3 Paypal
5. Checkout
6. Track your order

***Courier may upload the status of the shipment 24-48 hours after shipping

Tracking Number: It can be located in the Fulfillment Update Email / or via SMS
****Screen shot or infographic of the fulfillment update containing the tracking number
1.2.1 Courier Website Tracker
Metro Manila:
            Website: http://sys.courexpress.com/tracking.php
              Mobile Number: +63 998 988 6912| +63 917 839 5561
            Email: md@courexpress.com
Provincial: PAYO CONTACT           
            Website: https://www.lbcexpress.com/track/
             Landline: 1-800-10-8585999
Facebook Messenger: m.me/eyeknowrightshadies
SMS: 0995 230 4744 / 805 5156
Email: sup@eyeknowright.com
Version Alpha Products: 100-day warranty is immediately effective from the date of delivery
Eye Know Right will only issue warranty-grant to the customers who have submitted their incident report form here: https://eyeknowright.com.ph/pages/incidentreport
We are only granting the warranty privilege to manufacturing and delivery issues:
Damage upon delivery of the courier

Wrong item received


These are the instances that the warranty-grant will NOT apply:
Voluntary damages

Wear and tear or minimal damages due to daily use

Scratches on lenses




CHANGE ITEMS
You just need to file and submit an incident report form here:
https://eyeknowright.com.ph/pages/incidentreport
You have 30 days to request for a replacement of item/design if and only if the item is not yet used

The customer requesting for replacement must shoulder the shipping costs back to our Hideout and back to their shipping address

As long as the product that arrived at the office is undamaged, the replacement item will be immediately shipped back to the customer
Upon thorough investigation, Eye Know Right has the right to approve or disapprove any claims presented.
REPLACEMENT, REFUND AND CANCELLATION
REPLACEMENT / REFUND POLICY
To file for replacements and/or refunds, please file a request for replacement here:          
https://eyeknowright.com.ph/pages/incidentreport.

Your case will be taken good care of and will be investigated as soon as possible. Rest assured that we are doing our best to solve each customer's claim.
CANCELLATION
How do I cancel my order?
Please immediately message us here via Facebook Messenger for urgent concerns: m.me/eyeknowrightshadies
          We do follow a "Strictly No Cancellation" policy which will also be displayed prior to checking out. Make sure you have already               decided the item that you want to get before placing the order.
As much as we don't want to do this to anyone, refusing to accept or negligence to receive the order may result to the following consequences:
Black listed

Payment of another shipping fee

COD will not be available ever for the specific person
HOW DOES SCHOOL-PROJECT™ WORK?

With every purchase of Eye Know Right Shadies™ or LEGAZY®, 20% of our net proceeds go directly to our School-Project™ funds that enable and activate the movement of our vision. We update our community by posting real-time donation count on both our website and social media accounts to share the good news that will never be possible without the help of those who shopped and helped in changing a street-kid's life. Keep updated and receive some good news by sticking around.

We are a proud partner of ChidHope PH organization who have already established various successful projects in reaching out to the underprivileged street-children. We have also seamlessly worked with Streets-To-School, Tropang Lakwatsero, and Raccoon Productions who are continuously spearheading beneficiary events, gigs, and outreach programs to touch the hands of people who greatly need it.
MILEAGE OF SCHOOL-PROJECT™ MOVEMENT

Our past successful projects will never be possible without you, our partners, and our active Eye Know Right residents. Our recent remarkable projects are:
Kalyeskwela Program by ChildHope Organization that provides education to street-children in various areas in the Philippines. We happily donated school and art materials and helped facilitate the touching activity. We are in constant contact with them for our next big project together. Stay tuned.
Racoon Production's fundraising event was more than a success as hundreds of people came together to enjoy live music and experience the beauty of art while helping raise funds for the deserving beneficiaries (**insert album link or 1 image from the event)
Captain Marvel block screening as a fund raiser for Streets-to-School's beneficiaries (**insert video link of event highlights)
Tropang Lakwatsero's

2019

outreach program who are braving the rough roads to reach our Mangyan families and their children who, in the first place, should have equal access to the same rights and privileges every kid deserves. Watch out for their powerful outreach coverage coming out soon.

We are working day and night to establish EKR Hideout as a learning hub for street-children by turning our office into a classroom that provides the complete, most fun productive learning experience. We are more than willing to expand and build strong foundations with our existing partner organizations but we hold no closed-doors to welcome with arms wide open all the potential partnerships that can flourish in the near future. Talk to us if you have anything in mind. Let's have a beer or something.


You might also like